###500 NAMES### INTERNATIONAL FUNDRAISER IS NOW A PART OF HISTORY, WE DID IT, AND THIS BEAUTIFUL COMMUNITY WILL LIVE ETERNALLY, WE ARE 589 STRONG, WE'RE ALL BROKE WIDE OPEN, AND WE ARE FOREVER CONNECTED!!
500 NAMES is now part of HISTORY, it is COMPLETE, WE DID IT! WE GOT BROKE WIDE OPEN to run as an OFF Broadway Production at The New Theatre at 45th Street, and we did it as a COMMUNITY, this is perhaps what I am most proud of with regards to my journey of developing and eventually presenting BROKE WIDE OPEN over this past 6 and a half years. This beautiful and diverse, multicultural collection of amazing contributors from, literally, all over the world, this is certainly what BEAUTIFUL looks like, and it will live eternally, WE ARE 589 STRONG, you are all FOREVER connected to me and BROKE WIDE OPEN, YOU'RE ON THE LIST!!!!!
1-Ebony Brown
2-Anne Hamilton
3-Cindy Wolfe Boynton
4-Stephen Bishop Seely
5-Beth Popik
6-Steven Sachs
7-Noelle V Dor
8-Cory Morowitz
9-Ido Kadman
10-Jennifer Perez
11-Lori Romero
12-Holly Long
13-Jacob Victorine
14-Aisha Douglas
15-Sonia Raquel
16-Jennifer Crews
17-Jessica Molina
18-Alison B Levy
19-Mae Jeskie
20-Vanessa Acevedo
21-Alan Reznik
22-Vivian Taormina
23-Nilki Benitez
24-J. F. Seary
25-Una McGurk
26-Seema Clifasefi
27-Michael Geffner
28-April Stone
29-Lisa Fischer
30-Kathryn Alexander
31-Mia Roman
32-Paula Rodriguez
33-Patty Eljaiek
34-Will Rivera
35-Art Brasington
36-Helen Corporan
37-Charlie Poems
38-Aimee Gabrielle
39-Fanny Betances
40-Randee Levy
41-James Burns
42-Saria Idana
43-Henry UltimateBoricua Valentin
44-Mark Vigo
45-Gabrielle Rivera
46-Gus Martinez
47-Marbella Silverio
48-Sue Goodman
49-Maya Azucena
50-Bettina GOLD Wilkerson
51-Emma Diaz
52-Shreya Mandal
53-Bobby Roman
54-Chris Harris
55-Carmen Mojica Fabian
56-Christine Benjamin
57-Wanda Molina
58-Mark Baumgarten
59-Stephen Young
60-Christ Ramirez
61-Susan Ito
62-Sarah Chandler
63-Janice Palmer
64-Jon Bates
65-Jan Newman
66-Alicia Anabel Santos
67-Shreedevi Thacker
68-Morley
69-Amy Daniels
70-Bernice Sosa Izquierdo
71-Doug Adler
72-Kari Abelman
73-Nadia Bourne
74-Rosa Casarrubias
75-Rhonda Elhosseiny
76-Edna Lee Figueroa Millan
77-Vanessa Vargas
78-Shannon Grooms
79-Harvey Sherman
80-Jennifer Conley Darling
81-Jeff Knapp
82-Gisele Torres
83-Joyce "BRONX" Bradley
84-Bill Hawk
85-Marcus John
86-Naa Akua
87-Rob Findlay
88-Rob "Simply Rob" Vassilarakas
89-Samantha Alethea Inniss
90-Stacy Lasner
91-Hadas Kushnir
92-Kelly Newsome
93-Audrey Martell
94-Ema Lia
95-Christa Victoria
96-Aryeh Bernstein
97-Heather Hunt
98-Bianca Bagatourian
99-James "Peach" Mcclory
100-Francesca Rollins
101-Ava Gaudet
102-Joe Ham [Hamit Up Productions]
103-Arlene Donovan
104-Judy Sickler
105-Robert F.Aponte Junior [Leslie Marrero]
106-Bobby DeJesus
107-Shelly Ramirez
108-Greg Demaras [John C. Conover Agency]
109-Humble Fyre
110-The Craftaholic
111-Jakira Torres
112-Jeff Bohnhoff
113-Elana Rutenberg Hayden
114-Ellie Rodriguez
115-Tatiana Dellepiane
116-Jay Feinberg
117-Kenny Mandel
118-Zara Phillips
119-Nancy Arroyo Ruffin
120-John Kaplow
121-Lara Morton
122-Zhen Xu
123-Jani Rose
124-Rachel Bernstein
125-Michael Raysses
126-Victoria Cepeda
127-Efrain Nieves [Pa'lante Latino]
128-Jessica Moreira
129-Sabrina Gilbert
130-Latanya DeVaughn
131-Michael Sodano
132-Steve Peckman
133-Amber Summers
134-Sabrina Sacks Mann
135-Madaline Sparks
136-Suzette Eby
137-Nathalie Leon
138-Stu Smiley [HBO]
139-Giorgio Kolaj [Famous Famiglia]
140-Ari Levy
141-Maya Barros Odim
142-Yesenia Bosch
143-Daria Jarmel
144-Thomas Phillips
145-Curtis Wiley
146-Suhey Rivera
147-Michele Messina
148-Angela Malverne
149-Meriam Rodriguez
150-Amalia Vulala
151-David Diaz
152-Jay Brandwein
153-Jim Victorine
154-Gail Hirsch
155-Luz Guerra
156-Michael Dote
157-Arin Maya Lawrence
158-Mike Street
159-Carol Senavitis
160-Ayodele Alli
161-Kelly Walsh
162-Adam Tendler
163-James Walsh
164-Suhey Rivera
165-Jeffrey Posner
166-Christina Mendez
167-Hanna Latif
168-Jeff Fischer
169-Leslie Fischer
170-Natalie Ramos
171-Mindy Gorlin
172-Mardeah Gbotoe
173-Moira Storrar
174-La Boricua-Goddess
175-Julie Bolt
176-Justine Hornedo
177-Ralph Schwartz
178-Ed Toney
179-Lloyd Phillips
180-Phil Peredo
181-Sasa Bella
182-Sally Cooper
183-Peggy Robles Alvarado
184-Mariah Rivera
185-Saundra Robinson
186-Marcus Robinson
187-Dina Kushnir
188-Yochanan Kushnir
189-J Skye Cabrera
190-Debbie Smith
191-Julia Goldman
192-Dennis Michael Lucas
193-Michael McIntee
194-Xia Lily Daniel
195-John Kolaj
196-Paul Kolaj
197-Tony Kolaj
198-Naima Ince
199-Merlene Douglas
200-Lorena Rodriguez
201-Philip Mangiat
202-Michele Sobel Randazzo
203-Dymond Dalton
204-Carole Proszowski
205-George "Urban Jibaro" Torres
206-Papo "Swiggity" Santiago
207-Eleni Hopkins [Reikes]
208-Eleanor Merson
209-Stephanie St James
210-Michele Friedman
211-Raul Brunet Jr
212-Jo Murray
213-Angel Rodriguez
214-Barbara Horne
215-Sylvana Opris
216-Natalie Sturgis
217-Tasha Pierce
218-Bernard Garbo
219-Helene Ruiz
220-Tai Allen
221-Kristen Amendola
222-Sophie Hurtado
223-Kathleen O'Grady
224-Stinson O'Grady
225-Suhey Rivera
226-Yvette Coleman
227-Tom Coleman
228-Teresa L. Vescera
229-Dan Ginsberg
230-Natalie Papailiou
231-Lourdes Melendez-Gamez
232-Rosalia Villanueva Whiteman
233-Caridad Svitch
234-Chandi Mandal
235-Janice Dempsey
236-Jomaira 'La Sensacion' Martinez
237-Kathy Snyder
238-Maria Rodriguez
239-LatinosNYC
240-Lou Liberatore
241-Noah Reitman
242-Ronald Brown
243-Ellen Mednikoff
244-Gladys LaFrossia
245-Tiesen Bolero
246-Paige Allen
247-Suhey Rivera
248-Aminta Delara
249-Aisha Sidibe
250-Jim Wharton
251-Norma Wharton
252-Hillary Rollins
253-Robyn Ellenbogen
254-Ron Bernstein
255-Richard Isaacs
256-Lukisha R. Williams
257-Judy Landers
258-Randy Isaacs Karsch
259-Sien Ide
260-Richard Santiago Jr
261-Brenda Pabon
262-Taisha Rodriguez
263-John J Hard Ent.
264-DJ Rhythm
265-Christopher Garcia [Christbearer]
266-Ebony Rivera
267-Claudia Whittingham
268-Vanessa Williams
269-Christopher Kaczmarek
270-Natasha Kubis
271-Irene Zimmerman
272-Passion Lives
273-Tia Fortunate
274-Caridad De La Luz [La Bruja]
275-Arlena Dunn Brown
276-Erika Citron Scotti
277-Zoraida Figueroa
278-Bridget Barkan
279-Angela Brasington
280-Liz Brasington
281-Wonder Lee
282-Roland Angerer
283-Wanayran Alvarez Angerer
284-Rick Fishkin
285-Kelly Knaub
286-Ilana Brin
287-Michael (kidney) O'Grady
288-Goldie Lox
289-Sally Starin-Rolnick
290-Maria Parziale
291-Audrey Landers
292-Monique Patterson
293-Howard Pearl
294- Joe "Elemento" Romagnano
295-Katrina Wright
296-Matt LoGuercio
297-Jess Lawrence
298-Klvn Klvn
299-Tongo Eisen-Martin
300-A Lyric
301-Brian Lowe
302-Ralphy Tatuxmen Perez
303-Evette Gonzalez
304-Stephen Guirgis
305-Carlos Manuel Rivera
306-Bridget Bartolini
307-Lisa Marie
308-N'DigoDesign
309-Jennifer "Dotora" Huse
310-Jason Sisino
311-Lee Alston
312-Yvette Brideau
313-Latanya Sweetness
314-Susan Rollins
315-Lucy War Cry Warsaw
316-Brian J. Sullivan Jr
317-Dean El Negro
318-Maria Rodriguez
319-Jessica Kostenblatt
320-Renee Fahan
321-Red Sirens
322-Rabia Noorstani
323-Lisa Rothe
324-Scheherazade Stone
325-Raquel Carmon
326-Ted Lambert
327-Courtney Aucone
328-Kevin Nason
329-Monet Cherise
330-Bill Tremblay
331-Donna Garcia
332-Robert Angelini
333-Jeannie Irby
334-Stephanie Malaspina
335-Bitty Bast'rd. Rollergirls of Central Kentucky
336-Jennifer-Leigh Oprihory [Phoenix]
337-Lisa English-Greenwood
338-Leticia Zuniga
339-Ingrid Gomez
340-Joan K. Hunt
341-Sunu Chandy
342-Marie Varghese
343-Herbert Sobel
344-Michael "HighLight" Bertoncini
345-Kathleen Moran
346-Michael Epstein
347-Xenia Sky
348-Vaida Tamašauskaitė
349-Julie Novas
350-Anthony Andujar
351-Andricka Hall
352-Jerome Rogoway
353-Marisa Taliferro
354-Glenn Rolnick
355-Michael Bonilla
356-Diane Garisto
357-Andy Huenerberg
358-Tanya Cunningham
359-Edwin Brenes
360-Yvonne Espana
361-Mel Espana
362-Dominique Morisseau
363-Gail Gordon
364-Sheila Gordon
365-Al Gordon
366-Louis Diaz
367-Phyllis Wilk
368-Leon Wilk
369-Angelo Fiorenza
370-MaryCae Vignolini
371-Robert M. Findlay
372-Isabel Magnus
373-Mindy Gorlin
374-Lee Anderson
375-Pam Hasegawa
376-Pierre Thiam
377-Kathleen LoPinto Vignolini
378-Robert Vignolini
379-Kim Vignolini-Walsh
380-Joseph Vignolini
381-Breanna Vignolini-DeMail
382-Gabrielle Vignolini-Gonzalez
383-David T Vignolini
384-Gregory Walsh
385-Jennifer Vignolini
386-Olivier DeMail
387-Halberto Gonzalez
388-Donella Haywood-Vignolini
389-Susan Bertoncini
390-Brittany Maldonado
391-Wanda Gould
392-Angie Turner
393-Patrick McMahon
394-Iris Wilk-Jacobs
395-Luis Lugo
396-Cyn Bird
397-Chad Copeland
398-Ankita Pandya
399-Katie Banks
400-Jan Mason Kingston
401-Kim Possible
402-Gerard Proszowski
403-D. Wiley
404-Lynda Hamilton
405-Charlie Poems Sr.
406-Alexander Ramirez
407-Elsie Cruz
408-Ana Josefa Romero
409-Eneida Caridad Diaz Stubbs
410-Dave Stanley
411-Kristin Stanley
412-Kelly Bobchin
413-Kari Holder
414-Felicia Fountain
415-Rosemary Wessel
416-John Hamilton
417-Alison Aguiar
418-Laura Wachs
419-Yadira De La Riva
420-Rain Pryor
421-Glendaliz Camacho
422-Estelle Wiederhorn [Samah]
423-Courtney A. Hollinsworth/US Army
424-Hope Hollinsworth Coaxum
425-Vicki Zeh Rivera
426-Izzy Rivera/Drifters
427-Nyko Hackett
428-Jessica Brenes McClory
429-Shira Singer
430-Annette Toutonghi
431-Trevor White
432-Diana Delgado
433-Jeanette Yoffe
434-Keith Anthony Fluitt
435-Natasha Rabin
436-Karen Rossi
437-Lynn Diaz
438-Shamecca Long
439-Bill Bollati
440-Natajsha Gonzalez
441-Joy Leacock
442-Jack Sharkey
443-E. Kevin Jones
444-Angela Keiser
445-Harold Glassberg
446-Albert TainoImage Areizaga
447-Queen Godis
448-Angelique Imani Rodriguez
449-Establishing Artists for Tomorrow Media Group [Christina Denise Rodriguez]
450-Amelia Keiser
451-Jane M. Rollins
452-Jack Rollins
453-Nicole Ross
454-Sivan Hadari
455-Richard Ziman
456-Leslie Law
457-Angela Figueroa
458-Alla Antsis
459-Lalita LaMonte
460-Jim Ford
461-Kendall Pettygrove
462-Sherie Reyes
463-Debbie Rivera
464-Jimmy Donegan
465-Jimmy O'Grady
466-April Lang
467-Maureen Cronin Segura
468-Glenys Javier
469-Kathryn Hoxie
470-Danielle D'Ambrosio
471-Puma Perl
472-Katrina Gurl
473-Renee Dillon
474-Brett Cohen
475-Josie Santos-Chenevert
476-Erin Pope
477-Karie Gaska
478-Fred Guterl
479-Alexis Marnel
480-Diane Reckner
481-Maria Fontanez
482-Kararaina Beckett
483-Gene Torres
484-Joseph Harris
485-Nia Andino
486-Claudia Guiracocha
487-Karan Guy
488-John Adams
489-Marissa Artzt
490-Melanie Katzner Fox
491-Diana Ramos
492-Maia Amada
493-Theresa Marasco
494-Antonio Marasco
495-Bonafide Rojas
496-Simon Valenzuela
497-Nan Klein
498-Jessica Klein
499-Ari Klein
500-Richard Klein
-----------------------------------------------
AND ON TO THE NEXT 4500, WE'RE GONNA GET 5000 NAMES!!!
-----------------------------------------------
501-Mary Kubik
502-Dêlðis Suñshiñê Ðêê
503-Angel Izquierdo
504-Carmen Del Pilar
505-Cyn Bird
506-Pamela Hernandez
507-Melech Meir
508-Bella Kimpton
509-Kelly Lynn Bowser
510-Patricia Patterson
511-Sean Elijah Bell Foundation, Inc.
512-Anthony Anderson
513-Valerie Bell
514-William Bell
515-Nancy West McGuire
516-Marie Parham
517-Trish Lay [Souls At Play Productions]
518-TJ De Rosa
519-Ethel Corbitt
520-Shane Tu Kora
521-Tushar K. Pandya
522-Sally Cruz
523-CHFS PYA Youth
524-Alice Posner
525-Joe Posner
526-Mark Posner
527-Natalia Mendez Huergo
528-Mamma Rosa
529-Eva Loayza
530-Sally Cruz
531-Nelsy Ramos
532-Aneil Rodriguez
533-Christine Ngai
534-Nelise Marie Vargas
535-Yesenia Martinez
536-Jose Angel Rodriguez
537-Josia Cotto
538-Lucy Demaras
539-Chris Cook
540-John Churchill
541-Lawrence Keiser
542-Valerie Hager
543-Scott Slavin
544-Robert Lee Patterson
545-Willie Bell Patterson
546-Camille Alexis
547-Khaliah Reed
548-Christopher Chilo Cajigas
549-Irma Lopez
550-William Reyes
551-Charles Francis Xavier
552-Santiago Figueroa
553-Efrain Ortiz
554-Leocadia Cordero
555-Alex Futter
556-Eugene Levy
557-Matthew Cusack
558-Randy Karsch
559-Irving Reikes
560-Irene Reikes
561-Elizabeth Rotchford
562-Margaret Bruns
563-Jim Coker
564-Edna Bruns
565-Craig Hederich
566-Terrill Bazile
567-Amy Simmons
568-Richard Pryor
569-Herbert Bonis
570-Elisabeth Martin
571-Eric Fischbein
572-Kyle Hunt
573-Wayne Schechter
574-Corine Fischer
575-Ronda Zawel
576-Holly Choon Hyang Bachman
577-Ketul Patel
578-Juliana Bartolini
579-Yakubu Budu-Saaka
580-Jarad Wilk
581-Cynthia Sepulveda-Caballero
582-Charlene Thorpe
583-Michael Wolk
584-Joyce Wright McAdoo
585-Francisca Severino
586-Angel N. Pasian
587-Lilia "Bita" Pinedo-Castellar
588-Pam Powers
589-Michael Drutman
EVERYTHING BELOW IS NOW OFFICIALLY ARCHIVED MATERIAL, THIS FUNDRAISER IS OFFICIALLY CLOSED, WE SUCCESSFULLY MOUNTED BROKE WIDE OPEN AS A COMMUNITY, IN THE MOST AMAZING WAY, WE SHOWED THE POWER OF COMING TOGETHER, AND I AM FOREVER GRATEFUL TO ALL WHO CONTRIBUTED, AND I LOOK FORWARD TO THE NEXT STEP FOR BROKE WIDE OPEN, WE'LL SEE WHAT THE UNIVERSE HAS IN MIND FOR US NOW. WHAT YOU WILL READ AND SEE BELOW THIS LINE IS HISTORY!!!!
--------------------------------------------------------------
In summer of 2006, my friend, Jane Rollins was in a downtown hospital, recovering from a hip replacement, or maybe it was her knee, or shoulder, she's had it all, I can't really remember, but I brought some music in for her to listen to that I had been working on, a collaborative project where I was given some very political poetry, and I was asked to "make these poems into songs", and so I did, and the result was some pretty cool productions. I went all out, from drums and bass to guitars and keyboards, I added some beautiful string arrangements, did all of the vocals myself, including some HUGE background arrangements, a Rock WILK "choir" if you will, and so I was very proud of this work. I let Mrs Rollins listen, and since she is first and foremost a vocalist, she had been a big band singer back in the day, and also given the fact that she was, and still is, a social activist, she LOVED this work. One day, her husband, and also my good friend Jack Rollins was visiting his wife in the hospital and Mrs Rollins handed him the headphones and he listened to my music, and he was FLOORED!!! He LOVED it, just raved about it, which made me feel very happy, obviously, especially coming from a man who was responsible for managing the careers of such great artists as Woody Allen, Robin Williams, Billy Crystal, David Letterman, among many others, it was a thrill for me to get that type of response from someone like Mr Rollins. I mean, I had a very close relationship with him, but it was really about our love for all of the New York sports teams that we both live and die with, The Yankees, The Football Giants, and the Knicks. This was really the first time, I believe, Mr Rollins recognized me as a serious artist, I never felt it was appropriate for me to approach him in that way, I felt it was better to just remain "friends", and so we did, but this moment changed everything, and it led to a beautiful fall day that October, still in 2006, where Mr Rollins said to me, "Rock, you need to do an album".
I replied, "I have no interest in really doing that, I have nothing to say." At the time, I was earning my living placing music on some television shows, picking up some sessions around town as a background vocalist, doing quite a few independent productions with some young artists around town, and so I was "good" with that, but Mr Rollins had other ideas. "Rock, you have a very unusual, interesting story, you need to tell it, and I mean, NEED. I believe you need to get it out of you, that this is your life's work, and I feel like if you approach it in that way, as ART, and not as "trying to get a record deal", you will do great work, you are an amazing artist, I heard that on the recording I listened to at the hospital". I told Mr Rollins, I couldn't do it because it would take too much time to engage in that type of work, that my life was not set up that way, and he offered to sponsor me, with one "request"........ "Rock, I'm gonna give you this check, but I want you to promise me one thing. That you will BLEED all over this music, that you will dig as deep as you can and be willing and brave enough to really REVEAL yourself in this music. The GREAT artists are the ones who are willing to do that, you KNOW WHO THEY ARE from their work, I believe you are like those artists, very unusual, very special, you have that gift, but the value is only if you are willing to bare your soul like that, and so you need to promise me that you will approach this work in that way, and if you do that, I will support you in this endeavor. I believe that if you are willing to REALLY open it up, to really REVEAL yourself to those who get to experience your work, they will love you as much as I do. Also, Rock, my hope is that this work will serve you for the rest of your life. So... can you promise me that?".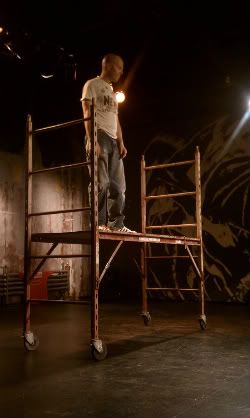 And so BROKE WIDE OPEN was born, I began writing the songs in October of that year, in 2006, each day riding the subways of New York City all day and all night, which is where I had ALWAYS done my creating, I could be found singing into my little digital recorder all over town, on the G Train, on the A Train, on The D Train, creating songs from the center of my soul, I bled out, I released everything that I had inside of me, and then, at the end of each day I would go visit Mr Rollins and sit in Riverside Park with him, sharing what magic I had come up with on that particular day, and by April, the album had been written and recorded. I produced and performed all of that work in my little studio in my apartment in Bed Stuy, Brooklyn, where I was living at the time, it was the most amazing catharsis, and by August of that next summer, in 2007, BROKE WIDE OPEN was mastered and released out into the universe.
And so now I had this work, this album, and I really didn't know what to do with it, but I began getting feedback immediately, and it was profound, very positive, but also very interesting. This was not your average collection of songs, this was a series of stories that all directly related to my life, in a genre of music that could really only be described as MY genre, and it was not "easy" to listen to, I was putting some controversial material out there, but what was MOST interesting for me was that I guess it all came out in a way that made quite a few people say to me, "it feels like a play".
To make a long story short, I listened, and my first live performance piece was born, called Ma'Plej, which was almost 4 hours of music and poetry and monologue, VERY high energy and maybe just a little bit of chaos. It was a lot, I'll say it like that, it was all of what I was going thru in my life at that time, I had actually endured a lot of LOSS at that time in my life, my mother had passed away, my marriage had fallen apart, my family was crumbling, I was finally, for the first time in my life dealing with my adoption, being fostered before that, my biological beginnings, and so this was how all of my emotions, my reflecting, began to manifest itself, thru my art, and so I just found places to perform Ma'Plej and began to get more feedback. Probably the most important day of this entire journey came at a performance down in Asbury Park, NJ, in a small theater called The Showroom, and a friend of mine invited the artistic director of The Revision Theatre to see Ma'Plej and that person was Stephen Bishop Seely. Stephen seemed to like the piece, and he agreed to sit with me a few days later at a coffee shop and discuss what he had experienced and allow me to pick his brain, share my hopes for Ma'Plej with him, and we sat for 3 hours that day, Stephen told me that he felt Ma'Plej was great, but that it was also about 14 plays, and he felt I should choose one of the stories and develop that into my first play, and BROKE WIDE OPEN had come full circle because in that exact moment. That day in the hospital when Mr Rollins heard my music for the first time had finally led me to my life's work, and I had finally defined it. And so the next part of my journey had begun.
What feels like a million re-writes later, I have the most amazing completed script now. After those humble beginnings I have had the opportunity of doing a 3 week workshop of my play in New York City last year, completed a renegade national tour, traveled to London, survived the riots and had some of the most evocative and compelling performances at The Camden Fringe Festival, sold out a performance at The United Solo Theatre Festival almost 8 weeks in advance that was presented on Theatre ROW here in my beloved New York City, will be a part of the 2012 Mainstage season at The Passage Theatre in Trenton, NJ this coming March, which will be my first inclusion in the programming at a legitimate regional theater, and then.......... We have finally arrived as to exactly why I wrote all of this, why I felt I needed to share this entire story with you.
It is time for BROKE WIDE OPEN to take this major step toward what has been my goal from the very beginning, which is to open one day on a Broadway stage. This journey has been the most amazing and cathartic experience of my life, I have completely re-invented myself, my play IS my life, my life's work and my life's joy, and so I am planning to present BROKE WIDE OPEN this spring, after my performances at The Passage Theatre, as a commercial production, right here in New York City. I am going to do a run, an extended run that, hopefully, will sustain itself, continue to grow, and lead me to Broadway. BROKE WIDE OPEN at it's core, is RAW, it is ME, naked for all of you to see, and that will never be lost in any production, but also, it is BEAUTIFUL, and from the very beginning of Ma'Plej, I knew this was a combination of many things, and so BROKE WIDE OPEN will have the most amazing and dynamic lighting design, I am commissioning an artist to paint a huge mural that will actually house video and still photos, the music is the most unique and eclectic overture that you have ever heard, a combination of so many styles of music, I come from a jazz background, but my music is also steeped in the roots of R&B and Hip Hop, even some roots music, it is all from deep inside of me, I created it all for BROKE WIDE OPEN, and you will feel my spirit in what, I hope, beautifully complements this story of my search for my identity, where I feel wanted and comfortable, my search for HOME, so to speak.
BROKE WIDE OPEN is actually a very complex story, it includes, as a thru line, my very ambivalent search for my biological mother while also introducing you to my adoptive parents and what incredibly loving and generous people they were. In many ways, BROKE WIDE OPEN is about how fortunate I was in my life, despite the fact that the first significant moment of my life was that I was given away, this is a story of realization, a "coming of age", of finally being comfortable in my own skin, of loving myself, and releasing all of the obstructions that existed, including the ones that I created, in my life to keep me "separated" from my own happiness for most of my existence. And so BROKE WIDE OPEN, much like The Wizard of OZ, is the story of me trying to get HOME.
And so here I am, all of this work, all of this life, and it is time for me to take my shot, and so I have found the perfect space here in Manhattan, and I need to raise money to secure it. I am trying to raise $40,000 to run BROKE WIDE OPEN, to begin this part of my journey. Part of that money is to secure the space. Part is to pay my wonderful collaborators, my set, light and video designers, my artist, my director, my publicist, it costs a lot of money to get something like this off the ground, I have laid the foundation, have acquired the most beautiful and amazing core of supporters, have sold out almost every show I have done here in the city for the past year, and although this is a big mountain to climb, I bet my life on BROKE WIDE OPEN 5 years ago, have accomplished everything I set out to accomplish between then and now, and so it is time for me to make this very important step in my progression happen. This exact moment is what all of this work and dedication, sacrifice and commitment has been for. I hope that you will consider helping me with my journey to a Broadway production. It begins here in a small theater in midtown Manhattan where the full production will be put up for the first time, and as they say, and what I fully expect to happen, "if you build it, they will come".
I've been building this for my entire life, and so to honor my parents who saved my life, my Grandmother who made me feel as if she was my "blood", to all of the people who have supported me and my dream both financially and spiritually over the past 5 years, to honor more people than I could ever mention here, I am intent upon finishing this deal, and realizing my dream. Somehow over the past year, BROKE WIDE OPEN stopped being "all about me", and it has become everyone's story, that has been clear in the consistent response at every performance I have done over the past few years, and so I feel it is my RESPONSIBILITY to fulfill Mr Rollins' wish, that this work will "serve me for the rest of my life". I love that he used the word "serve". I will "serve" with this work for as long as I am able, for as long as you all will have me. THANK YOU for your support, whether it be your love and good wishes or your money, it all feeds me and I am grateful for every drop.
I want BROKE WIDE OPEN to be a play that people WANT to see, that they WANT to be a part of, this story was born on the subways and streets of NYC, then spread across the country and eventually navigated overseas to London, and so I feel like BROKE WIDE OPEN is about COMMUNITY, and even though this story is "all about me", it has really become EVERYBODY'S story, BROKE WIDE OPEN is about ALL OF US, and it would be such a beautiful thing if I could somehow get 500 names on this page to contribute to the continuation of this magical ride, and that you will all continue to fly with me. BROKE WIDE OPEN. The world is our community. Lets begin again with 500 names. Give what you can. I'll take care of the rest!!
Let the fundraising begin.......... The road to $40,000, Dear Universe......... I need $15,000 by the end of December. I promise you I will use it wisely and continue to work hard for as long as I am alive.
See you at the theater!!!!
Peace and love
Rock WILK
ALL CONTRIBUTORS WILL BE LISTED AS DONORS IN THE BROKE WIDE OPEN PROGRAM
CONTRIBUTIONS OF $50 OR MORE WILL GET YOU 1 FREE TICKET TO A SHOW DURING THE RUN
CONTRIBUTIONS OF $100 OR MORE WILL GET YOU A FREE COPY OF MY ALBUM, BROKE WIDE OPEN, PLUS 2 TICKETS TO ANY SHOW OTHER THAN THE OPENING NIGHT GALA
CONTRIBUTIONS OF $250 OR MORE WILL GET YOU AN ALBUM AND A SIGNED SCRIPT AND 2 TICKETS TO OPENING NIGHT
CONTRIBUTIONS OF $500 OR MORE WILL GET YOU ALL OF THE ABOVE AND YOU WILL BE CREDITED AS CONTRIBUTOR
CONTRIBUTIONS OF $1000 OR MORE WILL GET YOU ALL OF THE ABOVE AND YOU WILL BE CREDITED AS MAJOR CONTRIBUTOR
CONTRIBUTIONS OF $2500 OR MORE WILL GET YOU ALL OF THE ABOVE AND YOU WILL BE CREDITED AS EPIC CONTRIBUTOR
CONTRIBUTIONS OF $5000 OR MORE WILL GET YOU ALL OF THE ABOVE AND YOU WILL BE CREDITED AS PRODUCER
THANK YOU FOR YOUR CONTINUED SUPPORT, WE ARE ONE DAY CLOSER TO BROADWAY!!!
WE DID THIS!!! THANK YOU, I LOVE YOU ALL.